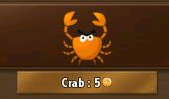 Crab (made on April 2013)
Crab is the 7th fish in the 1st island. Found at 123 metres deep to 140 metres deep, it is known as a yummy treat to us. Lots and lots of people eat crabs, because most people like seafood. Seafood is good. Crab gives you 5 Dollars. A special treat for you !
)
A comment from Yuanie:
Hello! Editing and Adding things are fun! Hope most of you would come to my Wikipedia. Best wishes, Yuanie!
21 Apr 2013
Another comment from Yuanie:
Hello, hello there ! I've been editing by hard work, and since I'm 
hardworking. I know most of you would want to know more, I can!
21 Apr 2013
)
Please add your comments below.