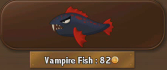 Vampire Fish (made on April 2013)
Vampire Fish is the 20th fish in Ninja Fishing 1st island. It is encountered after the Manta Ray and before the Coelacanth. It gives you a worth 82 Dollars.
Please help add a video and sign in!
Next up:
Yellow Minnow to Vampire Fish Quiz!
The quiz will be at the page "Yellow Minnow-Vampire Fish Quiz (Quiz 1)".
Please add your comments below.